Just as you were getting all comfy over on SnapChat, Instagram had to go and throw a wrench into things by launching Instagram stories. Or maybe you were like me and breathed a sigh of relief that you can now justify avoiding SnapChat altogether by sharing your stories on Instagram. Either way – it's time to learn something new!
Since Instagram's algorithm change earlier this year it's becoming less likely that ALL of your audience will see ALL of your posts. (Thanks Instagram…) Users are now mostly seeing content from users they interact with. Even though they enjoy your posts, if they aren't handing out hearts and commenting often, they may be missing what you share.
Because of this, adding stories to your daily Instagram routine is a good way to make sure your audience sees something from you every time you post.
Instagram stories are perfect for those times when you have something to share but the scene or lighting isn't quite good enough for a permanent spot in your feed. You can share what you're up to, offer a quickie discount, remind your audience of an upcoming event, offer tips + advice, show what you're working on behind the scenes, and generally make yourself look like a real-life human being.
Here's how stories work . . .
Stories appear at the top of your followers' feeds (for non-followers they're highlighted with a rainbow around your profile picture, which is not viewable if your profile is private). Each photo or video will disappear after 24 hours.
@ahitsrosa / @jencarrington_ / @afabulousfete
@todayimbobbi / @galadarling / @jenngietzen
To add your own stories . . .
1 | Swipe right or click the plus button in the top left corner. (Swipe left to go back to Instagram)
2 | Click the white button in the middle to shoot a photo or hold for video. Swipe down to grab a photo or video from your camera roll (you can only use something you shot in the past 24 hours). Click the speaker button in the top left to turn off the sound. Click cancel to start over.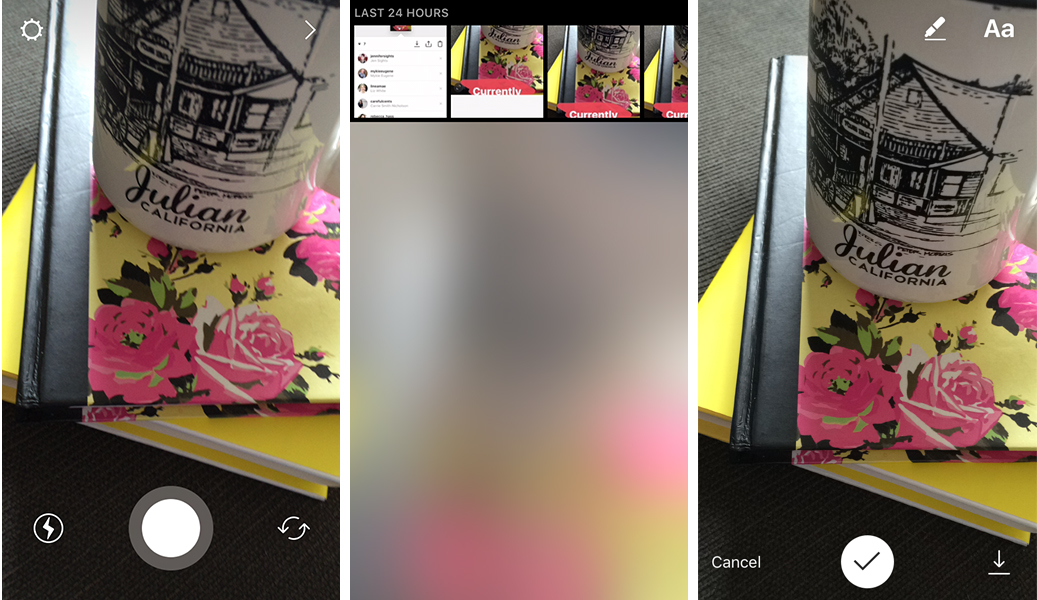 3 | Swipe left for filters.
4 | Click the text tool to add a caption on top of your photo. Once you've added text you can tap and drag to move it around or use two fingers to make the text larger or smaller.
5 | Use the pen tool to draw on your photo or add a background behind your text. Click and hold a color for more options. Click the three dots in the lower left to adjust the pen size.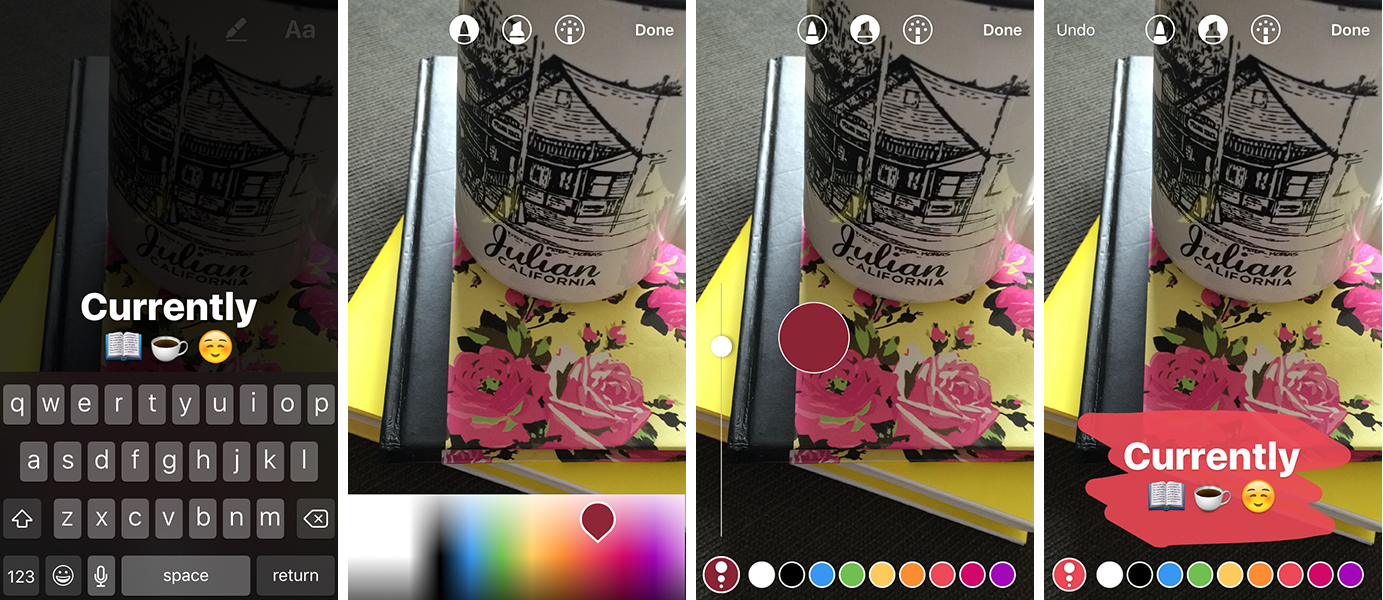 6 | When your photo or video is ready to go, click the check mark to post it to your account.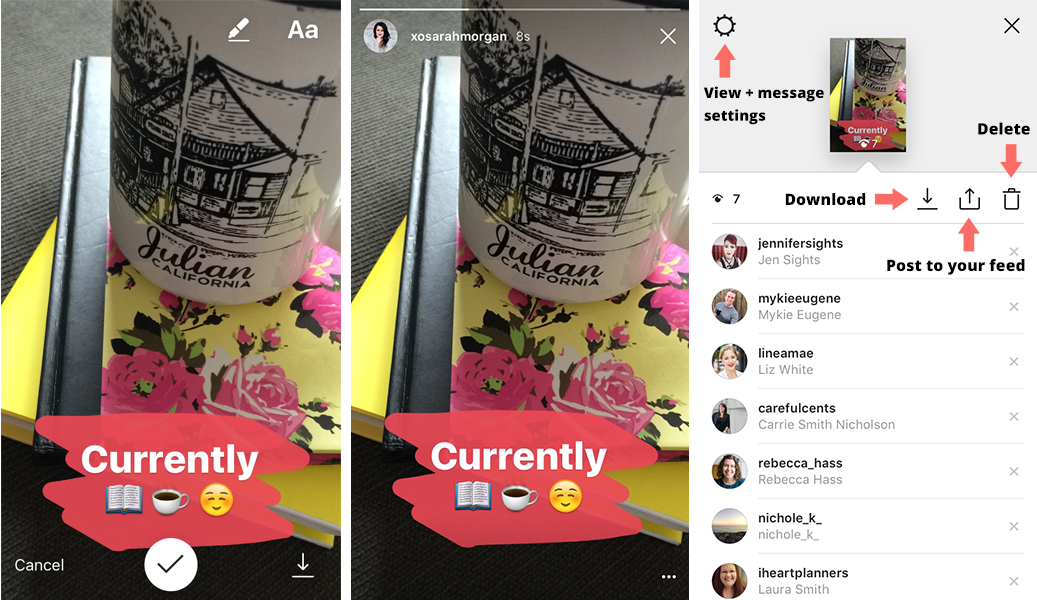 Your story will stay online for 24 hours. You can add to it by going through the process again; new stories will be added after the ones you've already posted.
Click the number at the bottom of your post to see who has viewed it, save it to your device, post it to your Instagram feed, or delete (you can delete one photo/video at a time). Clicking the cog in the upper left will allow you to change who can see your stories and whether people can send you a message.
Don't worry about all of your photos/videos having a running theme. You can hop from sharing a quick tip to going out to dinner to sharing what you're working on the next morning and wearing in the afternoon. Every time someone jumps in to view your stories, they'll start with the newest post they haven't viewed yet. So if you have 10 posts and they've already seen five, they'll start on the sixth the next time they click your profile pic.
To view other people's stories . . .
Anybody with a rainbow around their profile photo has added a new story. Tap the right side of the screen to go forward or left to go backward through one person's photos/videos (when they've posted multiple). Swipe left or right to go forward/backward to another user's story. Tap and hold to pause a photo or video.
If you're over seeing someone's stories in your feed, just tap and hold their profile pic and you can mute them. To un-mute, head over to their profile and repeat the same steps.
---
What to share on your own account
OK, now that you know how stories work, it's time to experiment with what you're sharing with your own audience.
Stories are a fantastic solution for those of you struggling hard over creating a curated Instagram feed. All the random stuff you're DYING to share can go into stories instead of your main feed, keeping those posts on topic and completely cohesive.
Since stories only stick around for 24 hours, I highly suggest sharing lots of different things to see 1. What you enjoy sharing most, and 2. What gets the best response from your audience. You can see the views on each story, so if you do a series and they stick around until the end, then create that type of content again. If your audience drops off somewhere in the middle, then try a different type of post next time to see if you can keep them engaged longer.
>> If you want some ideas for your Instagram grid, I've shared 30 of my favorites over here
Announcements or events
Since stories are highlighted at the top of your feed, it's more likely users will stop and pay attention than if they're just scrolling through tons of photos. (If Instagram shows them your photos in the first place!)
Take this opportunity to make a quick video for a webinar or giveaway, let people know you're about to broadcast on Facebook Live, or even share what your latest blog post is about. Create a short link (I use this 301 redirects plugin) or a bit link and then type the link on top of your video so people can snap a screenshot and check it out. You can also add the link to your profile for a quick click on mobile.
Peeks into your process
If you're a maker or you're working through something step-by-step, you can add to your Instagram story as you go. Share the process of painting, the steps of baking a cake, behind the scenes as you edit a video or put the finishing touches on a presentation. People love to see HOW you're doing something just as much as they love to marvel at the end result.
A finished product/project
Once your product or project is complete, you can use stories to do a quick walk-through of what you've created along with info on where to buy. Sophia Amoruso shared a peek at her new book with a set of video stories. Taking a few seconds to flip through her book helps build excitement for the launch and probably secured a few more sales (OK, probably thousands more).
Snaps of your daily life
I love stories for all those things I want to share when the lighting isn't perfect or the setting isn't quite right to be cemented in Instagram history forever. This allows me to be even more curated in my Insta feed and have a little fun showing what I'm doing during the day. (Are we Instagram buddies?? Find me @xosarahmorgan.)
Quick tips or advice
Take advantage of the video feature to talk directly to your audience. Courtney from The Rule Breakers Club used stories to share her new daily process. She posted a set of videos explaining each step and how she hoped it would work, then checked in a few days later to share the results. You can turn on the message feature or point them to your latest Instagram post to allow your audience to respond or ask questions.
Discount codes
Make your followers feel special by showing off a product and then offering a discount code that's just available for them. Share an image or video of the product, talk about why it's so awesome, and then use the marker tool to color over the whole screen and type the discount code on top (or create a graphic + upload it). You can see @jenngietzen's example of this at the top of this post.
---
If you're still not sure which direction to take your content, watch lots of stories from other people and decide what types of posts you like best. Your audience will probably be into seeing the same stuff as well!
And for those of you now balancing SnapChat and Instagram Stories – figure out your purpose for each. What do you get out of each platform and what does your audience get out of it? Do you have a huge SnapChat audience? Do the same people follow you on Instagram? Do people follow links to your blog/products more often on one service or the other?
For me it's a question of time. I'm only going to put time into building an audience on a handful of platforms, and since my peeps are already following me on Instagram, they just made it really easy to skip making a SnapChat account and share all my stories over there.
So…SnapChat, Instagram Stories, or both??
Which of these ideas are you going to try + what have you seen from others that was cool?
P.S. Need more inspiration? Here are 30 extra ideas for what to post on Instagram >>>